Liv Hanna has got a lot to say. After telling Liv that her voice reminds me a bit of Nelly Furtado who I once interviewed for CNN Showbiz Today for her breakout song "Like a Bird," Liv was off and flying, revealing among other things that she loves Nelly Furtado and was listening to one of her songs earlier today. As a former longtime entertainment producer for CNN, I've been lucky enough to interview a "who's who" of female singers from Madonna, JLO, and Mariah to Whitney, Beyonce, Bjork, and beyond over the years. Even  a young "Oops, I Did it Again!," Britney, who burned with ambition and dreams of fame. And I'll tell you, Liv Hanna impressed me.  A quick chat with this super-talented singer-songwriter revealed that she has a really good head on her shoulders to match her angelic voice.  Liv credits her family with guiding her on the right path and protecting her. Intelligent, self-aware, and hard-working, Liv Hanna she has a creative team she adores and soulful songs that are born from personal relationships and self-reflection. Liv loves 70's fashion and candles is not dating during the pandemic and has written a song called Bedroom to provide solace for young people who have negatively impacted by Covid. A staunch advocate for mental health, Liv meditates and writes songs and does all the normal stuff a soon-to-be college freshman at U of Miami would do. Liv thought that Harry Styles was a scream at the Grammys. And like a young Britney who once told me about how super excited she was to have an acting cameo on, Dawson's Creek, Liv Hanna also wants to act and sing– and do it all.  
Q: So you have two songs that are ready to drop in Bedroom and Self-Made?
A: Yes, they are different than anything I've done before. In the past, I was mainly pop and I was only 14 or 15 when I was writing the songs that I've been releasing lately and these are the two songs that I've written most recently and they are just more my vibe. They are kind of Indie Bedroom Pop like R&B Soul Indie instead of regular mainstream pop and I'm really excited for them to come out they are just edgy you know and one of them has a bit of rap in it and I'm really excited for everyone to hear that.
Q: How important is it for today's musical performers to understand their niche or musical categories?
A: I think it is a little bit of both because when you put a song on Spotify there is a whole process to uploading it and you have to select the genre and subgenre and you really have to categorize your song. (laugh) and it is very difficult for me to do that because I like to believe I'm a little bit of everything and I don't really like to categorize myself as an artist because all the music I listen to and get inspiration from come from R&B, come from Soul, from pop even, rap, indie, bedroom pop you know all of it. I usually put indie and R&B when I upload my songs but you have to understand it to kind of label it.
Q:  Who else is in your musical niche?
A: my niche is a lot of genres so here is a list for you of musicians that inspire me… Fleetwood Mac, I love Stevie Nicks. I listen to their album Rumors every day… Amy Winehouse, a little bit of Billie Eilish, Tyler the Creator, Rex Orange County, Frank Ocean, some Kanye West are my favorites. I love that vibe, Daniel Caesar, and a little bit of Quaro. so it's just indie R&B and then '70s is my favorite genre in general. I listen to 70's music every day any artist any day I love 70's music. Elton John, Billy Joel I have a whole 70's playlist, and the 40's, The '50s, and 60's too.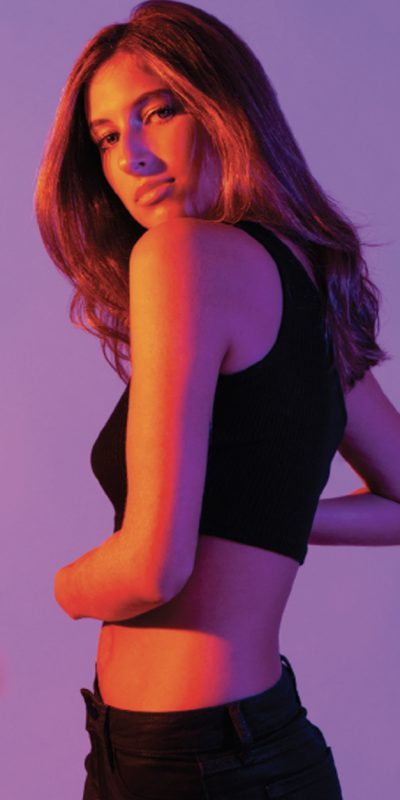 Q: Did your dad being a musician impact your musical tastes?  
A:  He goes through phases where he listens to different genres and when I was younger it was always 80's and rock and he'd playing AC/DC and I would sing Back in Black and Highway to Hell " when I was little and then he went from the '80s and rock and started listening to just jazz months on end…I also learned about jazz in my choir that I did outside of school for a few years so I'm really open to all music. Choir music, classical music, and my voice lessons and my mom was in choir when she was little so we would sing Hallelujah and Gloria and all the classics. I'm open to everything! I think Glee Club is always cool.
Q: Anything else that you are interested in besides music?
A: I actually started acting. When I was 7 I got a call back for Matilda on Broadway. It was me and about three or four other girls for Matilda and then told me no– because I was too tall (laugh).
Q: What inspires your songs?
A: Two things. Experience and I  write from a personal point of view. Billie Eilish wrote a song called Bad Guy but that was never her. She never lived that, she was just creating scenarios but for me, I like my songs to be very personal and they come from experiences that I've gone through. Bedroom talks about the isolation that my generation is experiencing with Covid and how things in our lives have changed so drastically.  Everyone is quarantining and wearing masks and for high school students their whole lives have changed and we can't control what's going on and we're kind of stuck and that is kind of what that song is representing.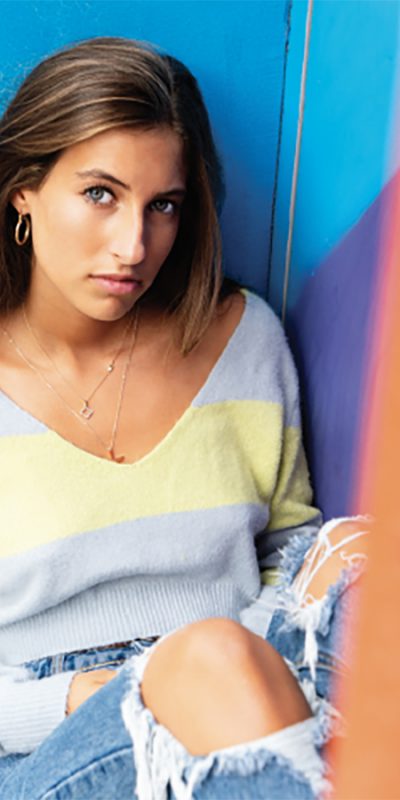 Q: Are you shooting music videos for your songs?
A: We are able to shoot music videos. The people involved with the music videos I see on a daily basis and we are taking the correct precautions. The director is actually my cousin. He is a cinematographer and he films the videos and my manager is onsite too it's just three people. So we are able to shoot music videos but that's not the priority as long as the music is on Spotify or Apple music that way people can stream it and hear the message that's the most important thing because the video is just a nice embellishment a cool visual to get the message across but as long as people can hear the song that's all that really matters to me.
Q: What is the message of New You?
A:  That's about coming into your own and letting certain people go. One of my goals for 2021 is just to work on myself and my mental health is my priority so I journal and I meditate and I don't really keep in contact with some of the friends that I had in high school because some became toxic friendships and we weren't supporting and encouraging each other so once I've started to surround myself in a more positive environment and worked on myself and my music and my craft I kind of began to flourish more and I've just studied the business and worked on my music and being alone and immersed in my craft just helped me appreciate it more learn more about it and being in the studio more with our team has just helped me so much.