Photography: Udo Spreitzenbarth 
Contributing Fashion Editor and Text: Ty-Ron Mayes Make-up and Hair: Ty-Ron Mayes
Model: Lita Cline
Fashion by The Blonds
Dog: Luke The Great Dane (care of Dr. Franziska Huettner) Location: Loft 29
Hey Lita, way to rock the retro fashion and those Anat Fritz-designed hats, one of which was worn by actress Anya-Joy Taylor in The Queens Gambit.
Thanks! I watched Queen's Gambit in one day. The fashion was amazing. When we were doing this Queen's Gambit-inspired cover shoot for Metropolitan and Ty-Ron pulled out all of the clothes I wanted to buy all of it (laugh). Udo and Ty-Ron even pulled out pictures of Twiggy to do some of the poses she would do back then. I've been told many times that I look like Twiggy and resemble her especially my hair. I appreciate that I think it's such a great compliment. Ty-Ron is so amazing I was able to work with him on my first trip to New York. Ty-Ron gives me tips, he tells me so much stuff to work on he just really helps and he's such an amazing guy I love working with him.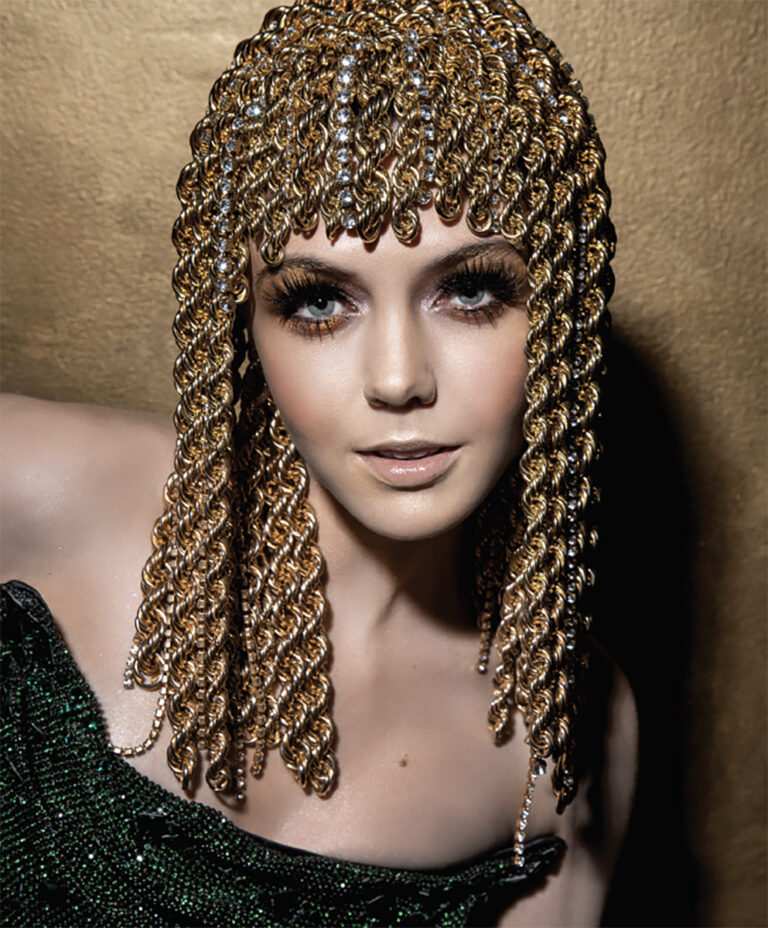 Stylist: Ty-Ron Mayes Photographer: Udo Spreitzenbarth Fashion: The Blonds
Model: Lita Cline
 

 

 

View this post on Instagram

 

 
What did you think about wearing the clothing line of The Blonds? You kind of look like an Egyptian Pharoah in the gold headdress.
That's what I told my Grams. I told her that's one of my favorites and I used to have long blonde hair too and I had it shoulder-length one time so it really reminded me of my hair when it was that way. Those are some of my favorite pictures I've ever seen and the clothing was amazing. Ty-Ron was telling me some of the histories of the clothes and the previous people that have worn them and they fit so amazing. You know they're heavy but they are comfortable and that was one thing I really liked and they were so neat and shiny I don't have very many clothes in my wardrobe that's that cool.
What does your family think about your modeling career?
They love it. It's amazing how much support I get from my little town in Texas and my family.
What do you like to do for fun?
Normally I like to dance, I like to go dancing I like to play basketball with my friends and hang out and watch Netflix. I like to cook a lot.